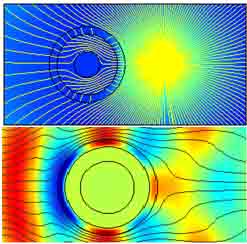 Fig. 1. Full (a) and partial (b) cloaking of an object by utilizing a meta- material with specifically designed permittivity and/or permeability
Creating artificial materials with pre-set optical properties is of enormous importance for a variety of civil and military applications. In 2006 Pendry[1], and co-workers proposed electromagnetic (EM) cloaking of an object in the GHz range. To achieve this phenomenon, the object is encapsulated by shell made of a metamaterial with specifically designed permittivity and permeability (see Fig. 1). When both the permeability and permittivity are negative a rather peculiar phenomenon referred to as negative refraction is observed. In such media many optical processes are reversed, including Snell's law, Doppler effect, etc. Recently, we have demonstrated such bulk metamaterials in the optical range [2]. Despite the progress, however, it is important to design new non-resonant and thus low loss metamaterials that could provide a high level of electromagnetic invisibility at the macroscopic scale. A theoretical study of such materials is the main emphasis of our current efforts.
[1] J. B. Pendry, et. al., Controlling Electromagnetic Fields, Science 312, pp. 1780 (2006). [2] J. Valentine, S. Zhang, T. Zentgraf, E. Ulin-Avila, D. A. Genov, G. Bartal and X. Zhang, "Three Dimensional Optical Metamaterials Exhibiting Negative Refractive Index", Nature, Vol. 455, pp. 376 (2008). [3] S. Zhang, D. A. Genov, and X. Zhang, "Matter wave cloaking", Physical Review Letters, vol. 100, pp. 123002 (2008).