Biomedical Engineering at
Louisiana
Tech
University
<< Back to Biomedical Engineering Program
B.S. in Biomedical Engineering
The Biomedical Engineering Department was established in 1972 and has gained respect as a leader in undergraduate education, research, and service. The Department was the seventh program to become accredited in Biomedical Engineering (1978) and draws students around the nation and the world. Approximately 50% of the BmE students are from outside the state of Louisiana.  Additionally, 50% of the BmE enrollment is female and 25% is from under-represented minority groups. The Program is known as one of the premier programs of the University and the State. The Program offers degrees through the Doctor of Philosophy and a joint M.D./Ph.D. program with LSU Health Sciences Center in Shreveport
Program Objectives
The objectives of our program are:
Career Preparation: To prepare graduates for employment as biomedical engineers, for graduate study in engineering or science or business, and for medical school.  Our graduates will understand the application of engineering principles to biological systems, and will receive specific technical training in one of the following four areas: chemical engineering, electrical engineering, mechanical engineering, or pre-medical studies. Career opportunities include clinical engineering, aerospace biomedical engineering, clinical practice as a physician, or any sector of the medical device industry.
Skills: To prepare graduates with skills that will enable them to be immediately productive in their chosen career.  These tools include a knowledge of contemporary topics in medical technology, understanding of modern engineering tools, design experience, and professional experience appropriate to their post-graduation goal.
Professionalism: To produce graduates who communicate effectively, who understand and undertake professional responsibilities, and who function effectively as members and leaders of multi-disciplinary teams.
<![if !vml]>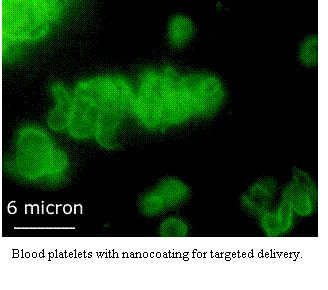 <![endif]>Life-Long Learning: To produce graduates who believe that their undergraduate biomedical engineering education was a wise investment and who desire to continue to develop their knowledge and skills throughout their careers.
The program is designed along broad lines to permit a student to obtain a fundamental education in biomedical engineering and a specialty in one of the following traditional engineering areas: chemical engineering, electrical engineering, mechanical engineering, or computer information. An additional specialty is available for pre-medical students.  As detailed in the catalog, the B.S. curriculum consists of 128 semester credit hours, including 31 hours of biomedical engineering courses, 15 hours of other required engineering courses, 13 hours of technical electives, 7 hours of biological sciences, 18 hours of engineering mathematics and statistics, 14 hours of chemistry and physics, and 30 hours of humanities. The curriculum culminates with a senior design project, spread over the winter and spring quarters of the senior year. The design course provides instruction in structured engineering design and enables the students to choose and solve problems using the skills and knowledge they have gained in their undergraduate careers.
Due primarily to the success of some of our early graduates, placement from the B.S. program at Louisiana Tech into entry-level engineering jobs has been very good. Each year, over 55% of these graduates pursue employment in industry, 35% pursue graduate study, and 10% enter medical school.
Accreditation
The Biomedical Engineering Program at Louisiana Tech is one of only twenty two in the United States which is accredited by The Accreditation Board of Engineering and Technology (ABET) and was the seventh program to achieve this goal. Graduates of the program are well prepared for taking the Fundamentals of Engineering examination. Established in 1972, the Biomedical Engineering Department remains as one of the oldest, largest and strongest such programs in the United States.
<![if !vml]>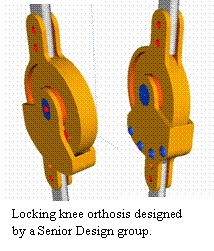 <![endif]>
Students in Biomedical Engineering
The Biomedical Engineering Program attracts students of the highest quality.  Biomedical Engineering students had the highest ACT composite score of all engineering programs in the College of Engineering and Science. The average ACT for Fall 2001 for new BIEN students was 25.9, compared to the COES average of 24.8 and the University average of 22.3.
Placement of graduates in medical school, graduate school, or employment in industry has been excellent.  Of the 22 graduates during 1999-2000, 21 achieved their placement goal within six months post graduation (95%), of which 11 were placed prior to graduation.  For 2000-2001, 13 of 20 were placed as of the time of graduation (May 19, 2001).  Data on students graduating in the past five years who remained in the United States and actively sought placement indicate that approximately 10% entered medical school, 35% entered graduate school, and 55% were employed. 
Graduates during the last two years seeking admission to graduate school were admitted to prestigious institutions including Rice University, Boston University, University of Michigan, Purdue University, Johns Hopkins University, Case Western Reserve University (receiving one of the two highest fellowships in Biomedical Engineering at CWRU), University of Virginia, Tulane University, Mississippi State University, and the University of Alabama-Birmingham.
<![if !vml]>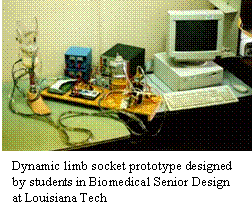 <![endif]>The Program has had a student on the USA Today Academic All-American Team for the years1992, 1993, 1994, 1996, 1997, and 2000. Six BIEN students have participated in the highly selective Baylor College of Medicine SMART (Summer Medical and Research Training) Program in the last eight years.
The program continues to attract the best students in the university, many of whom come from out of state to study biomedical engineering here. One example of these outstanding students is Solana Christiansen. In 1998-99, Solana Christiansen, a senior in Biomedical Engineering from Wisconsin, received a national Tau Beta Pi award (Peter & Elsa Soderberg Scholar for 1999- 2000). Solana was a member of the University Cross-Country Team, established the Chamber Orchestra on campus and was the President of Tau Beta Pi, which was named the Most Improved Chapter in the nation for 1999-2000. Before the end of her senior year, Solana had been named the top engineering student in the country by Tau Beta Pi, been named to the USA Today Academic All American Team, and had received a NSF Graduate Fellowship, with which she is attending the University of Michigan.  The Outstanding Student in BIEN for 2000, Shea Allen (from Mississippi) graduated with a 4.0 GPA and has published research papers with faculty in Chemistry and BIEN.  He enrolled in the University of Mississippi Medical School in Fall 2001.
Faculty in Biomedical Engineering